Opera Turandot
, "Nessun Dorma"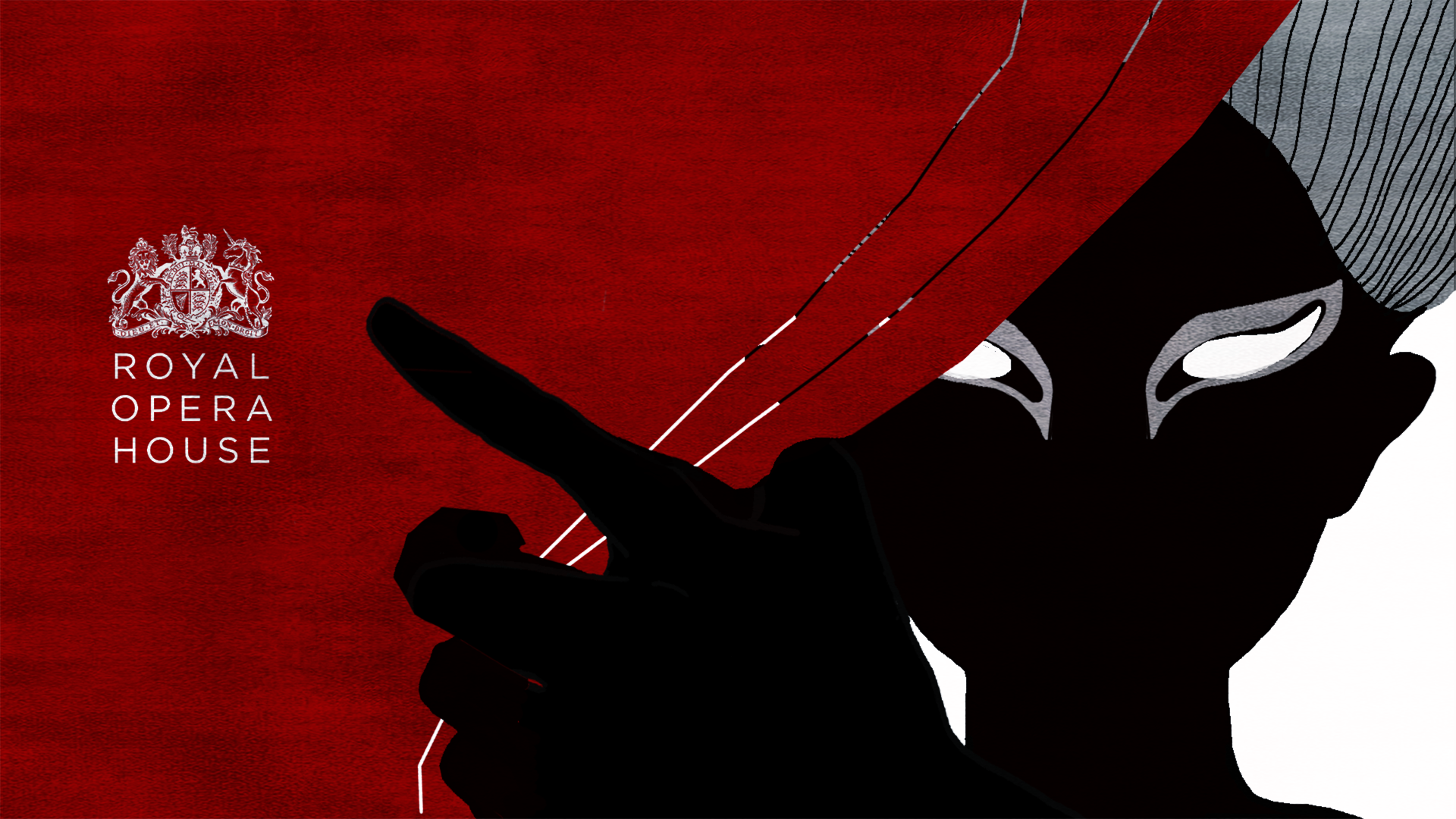 Sound design / Princess colouring                                :
Miseon Bae
Animatic                                                                        :
Nammi Eu
Storyboard / Character design/Character  Animation   : 
Eun Jee Lee
Set design / Background  Animation                             :
Lucy Key
Produce / set assemble for river / Princess colouring   : 
Yerim Park
We focused on the point where the Turandot, the princess's emotion changes in the original opera.
The red colour ribbon(fabric) used in the actual opera was our main motif which represents Turandot herself and her power of authority in our film.
Just as the aria we used in this film, "Nossun Dorma(None shell sleep)", the red ribbon spread out from Turandot, run through the city and wakes everyone up to collect the information that will be the key to change Turandot's faith.
As this was a promotional animation, we focused on the key event of the story and combined strong colours, fast ribbon movement with climax of the aria rather than showing overall storyline.

 We believe this increases the audiences' curiosity about the opera and lead them to the opera house to watch the actual opera and see why this happened and what will happen next! 
Also we used oriental aspects to the design of the time period "Turandot" was based on and colours related to actual opera performed in Royal Opera House to created fluent visual connection to the opera.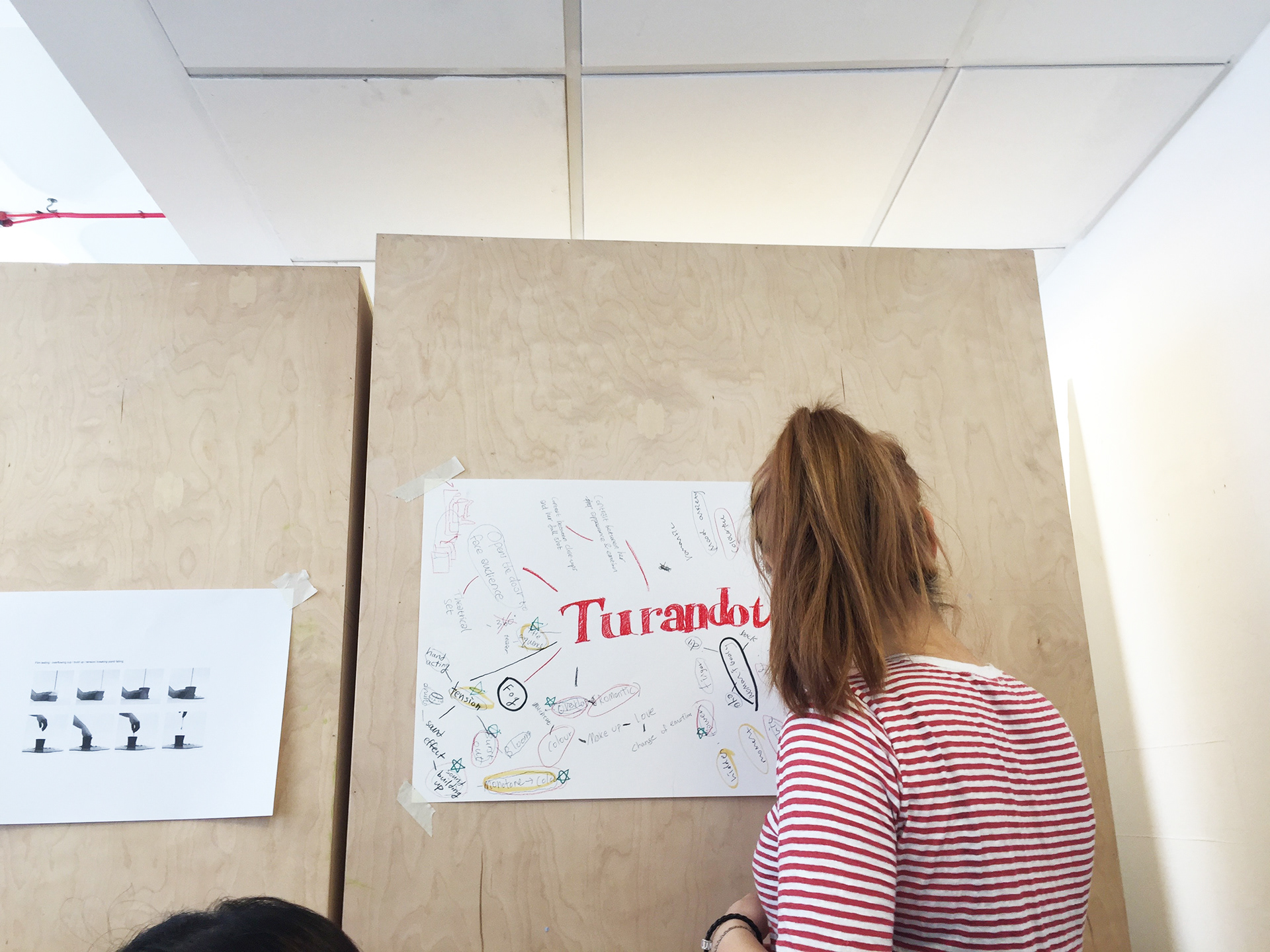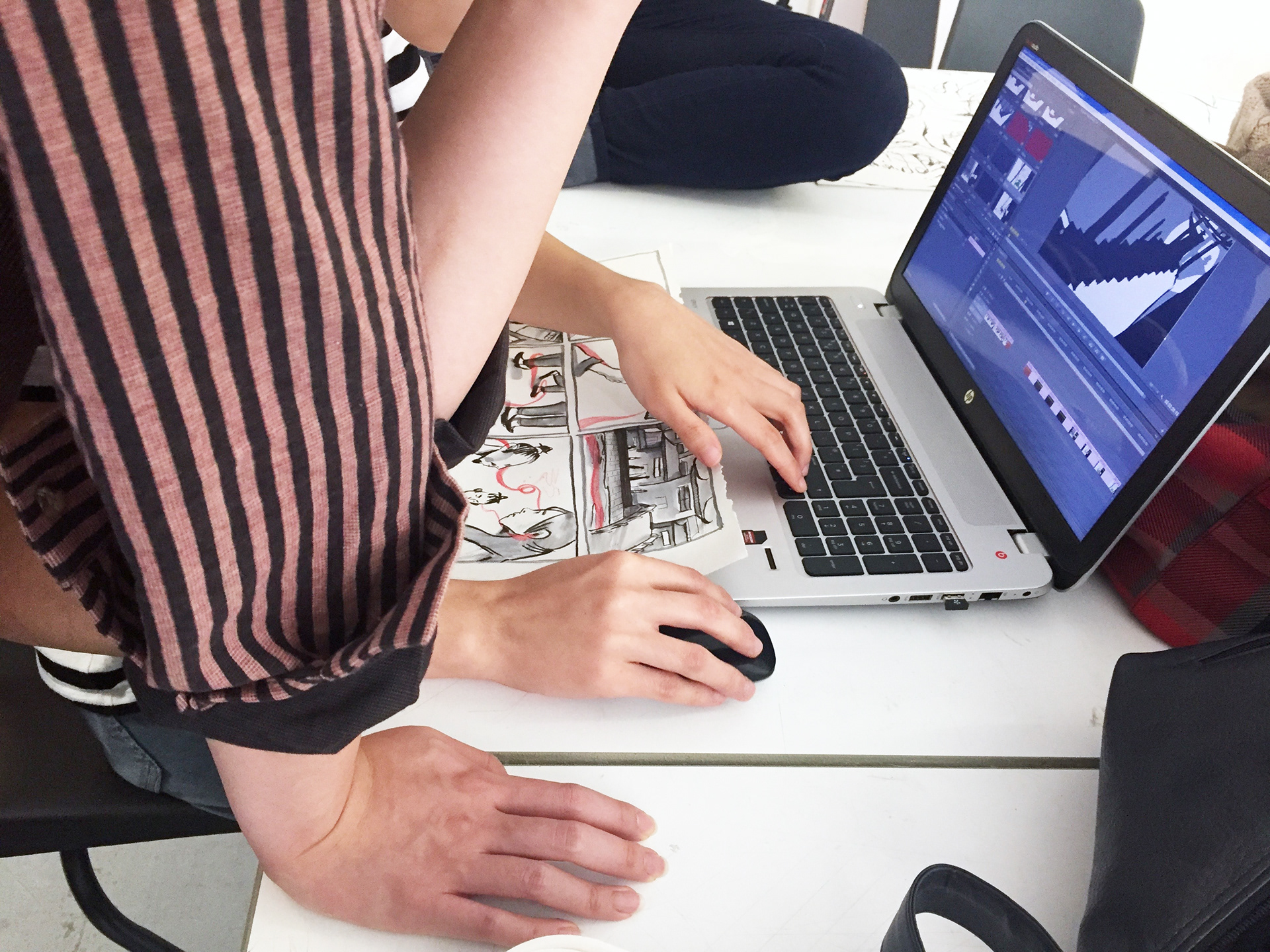 Left: Brainstorming and planning (team)         Right: Storyboarding(EunJee Lee), Animatic(Nammi Eu)
Character design & Animation 
(Main designer&animator: EunJee Lee/Colouring support: Miseon Bae, Yerim Park)
The overall drawing style was inspired by the shadow play in China.
For the cruel princess Turandot, to show her power of authority , with strong eye line, heavy but elegance costume and jewelries were used.
For people, they were drawn with less details compared to the main character Turandot.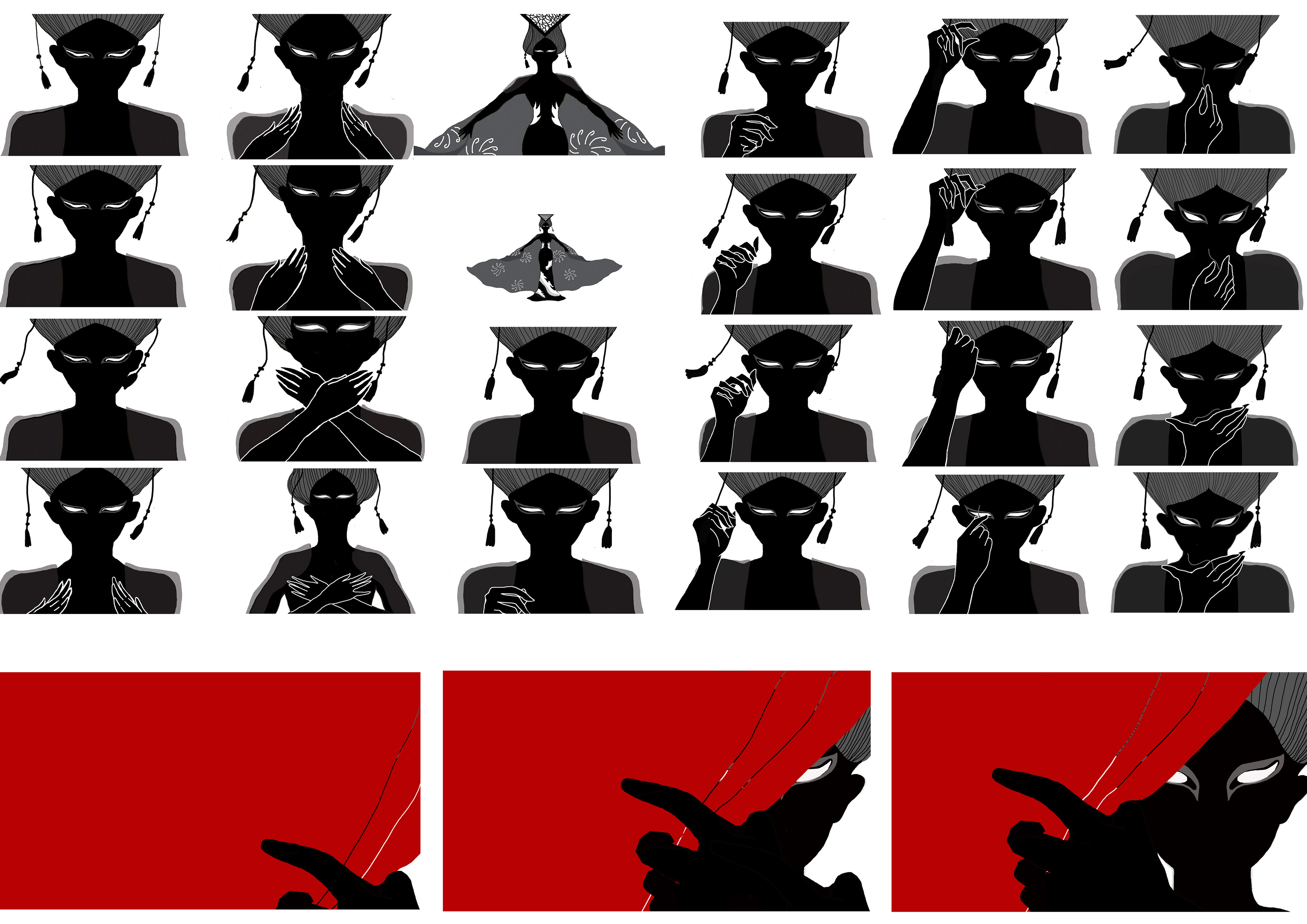 Used Photoshop to draw characters and add texture. For animating, Photoshop video timeline was used.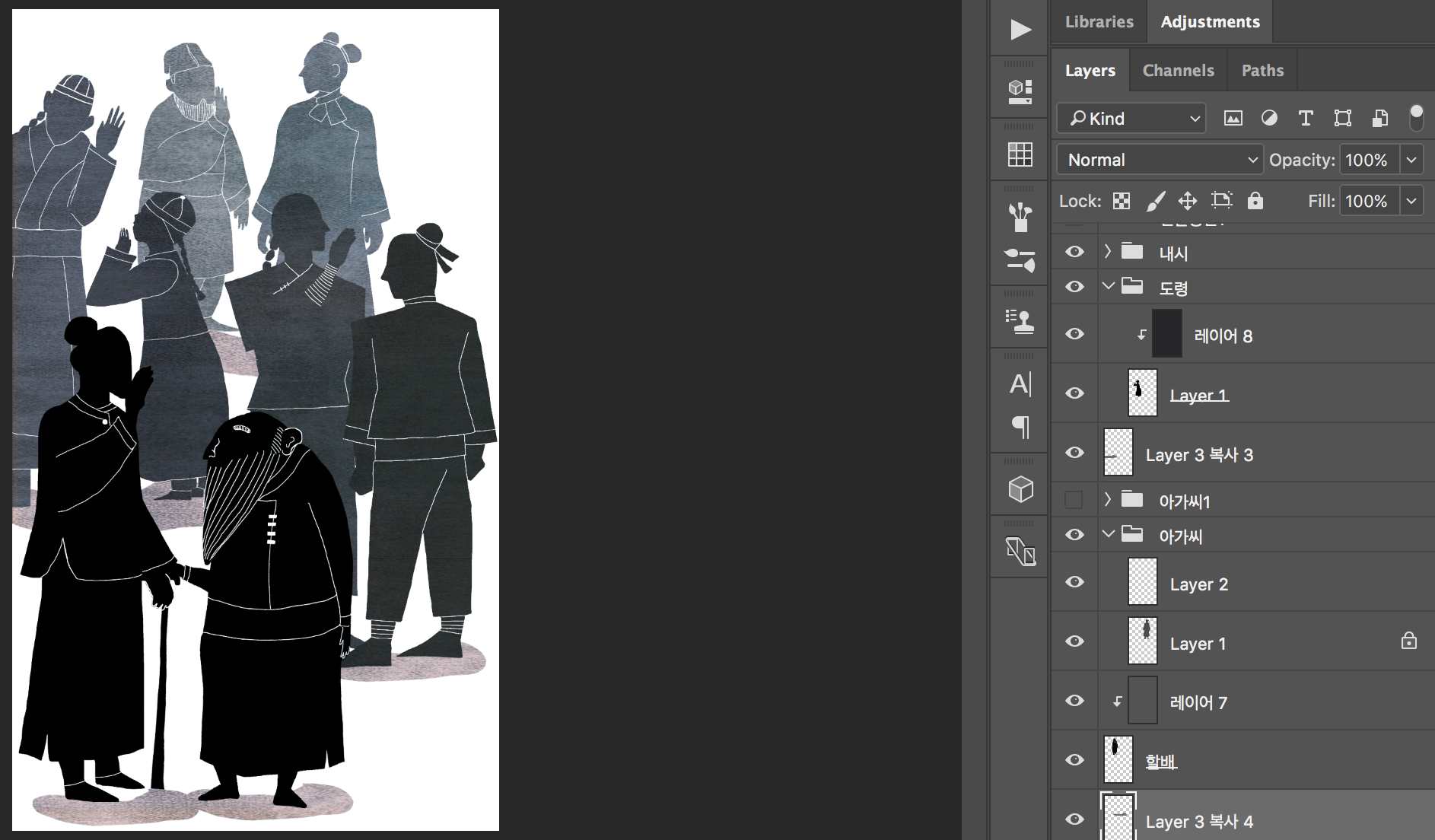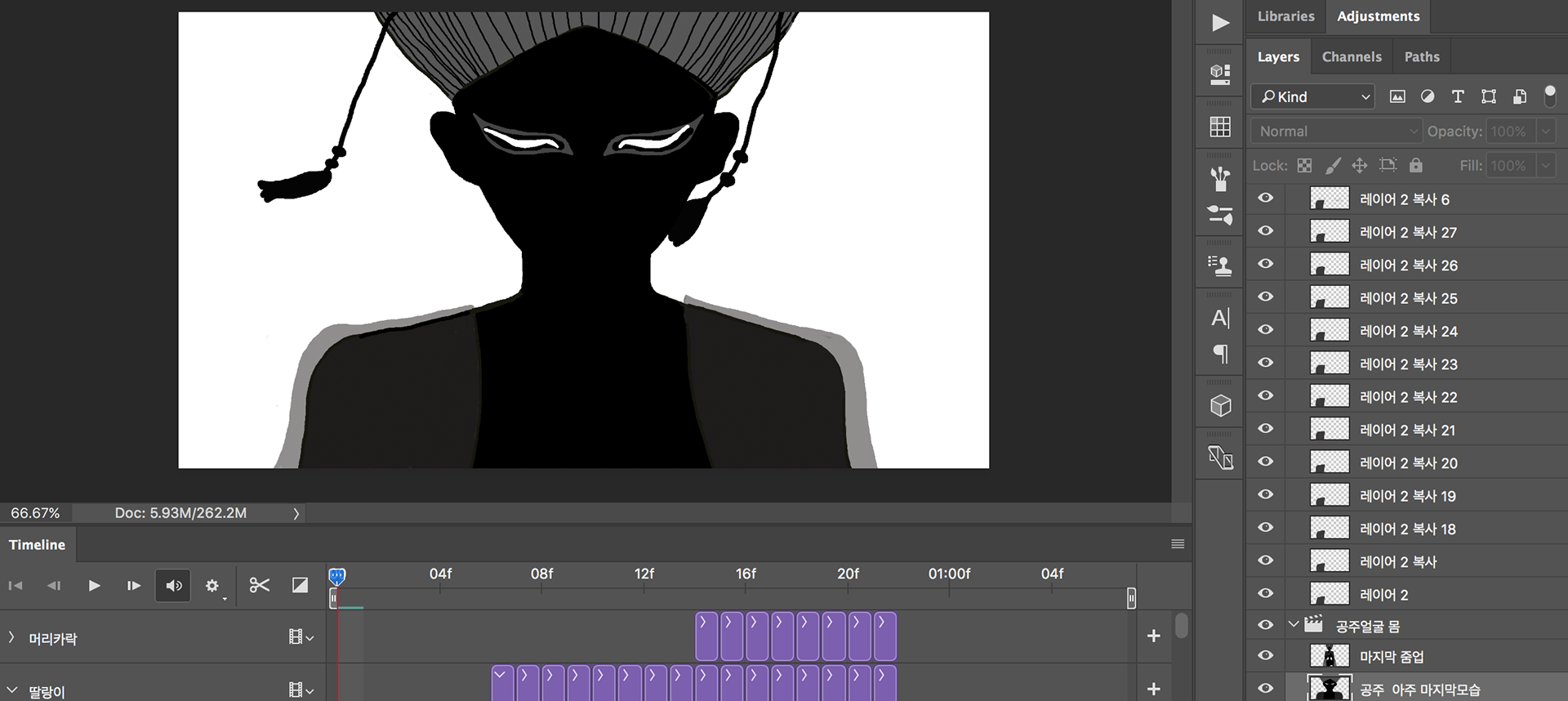 Background design & animation
(Main designer&animator: Lucy Key/river scene assemble: Yerim Park)
We used same China building references of the time "Turandot" was based on.
As the story is based on running through the city, we limited building colours so the red ribbon can stand out. 
For the background colour, 3 colours were used with gradation to show time change.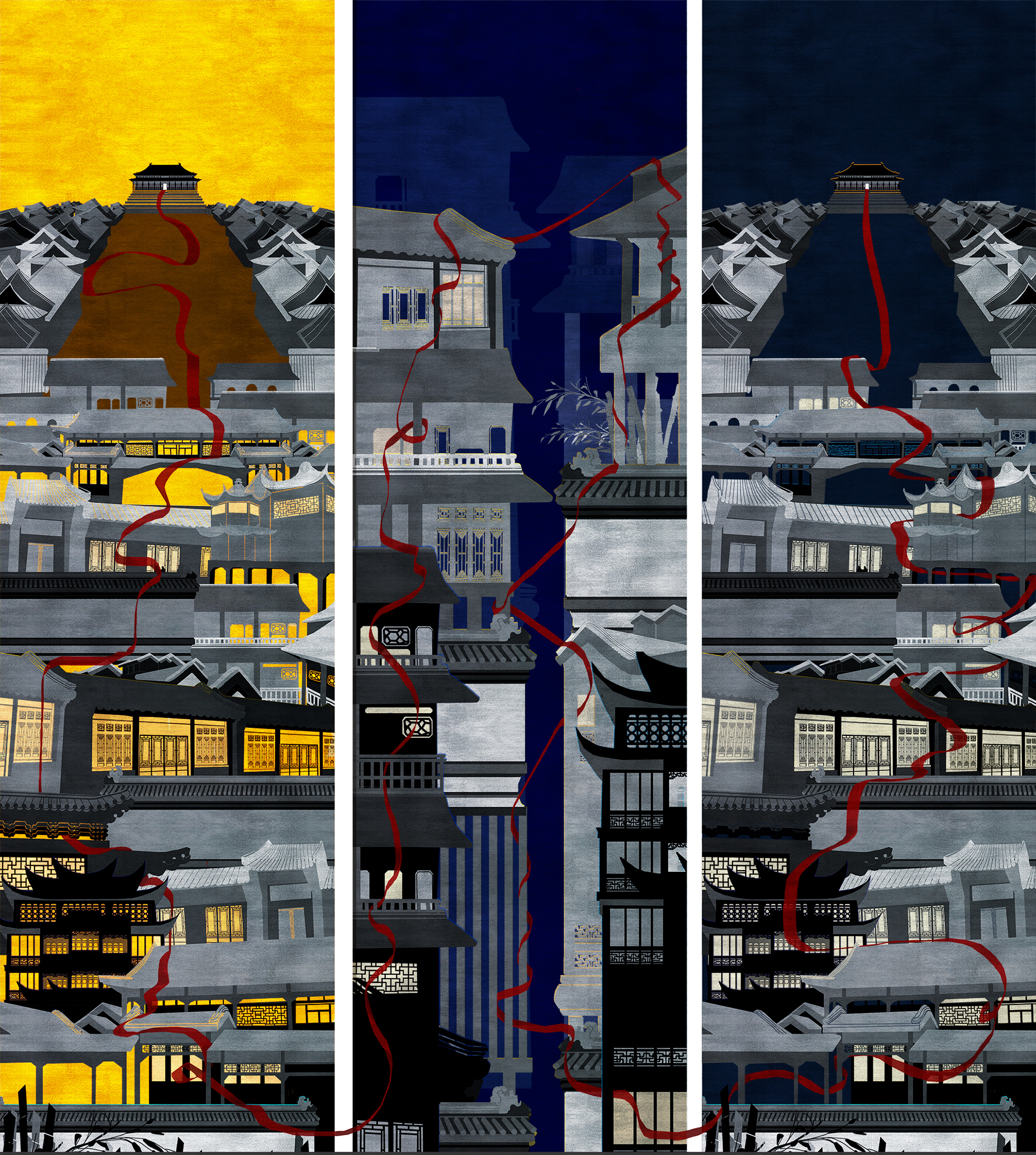 Used Photoshop pen tool and brush tool to create background elements. After assembling elements, used After Effect to animate.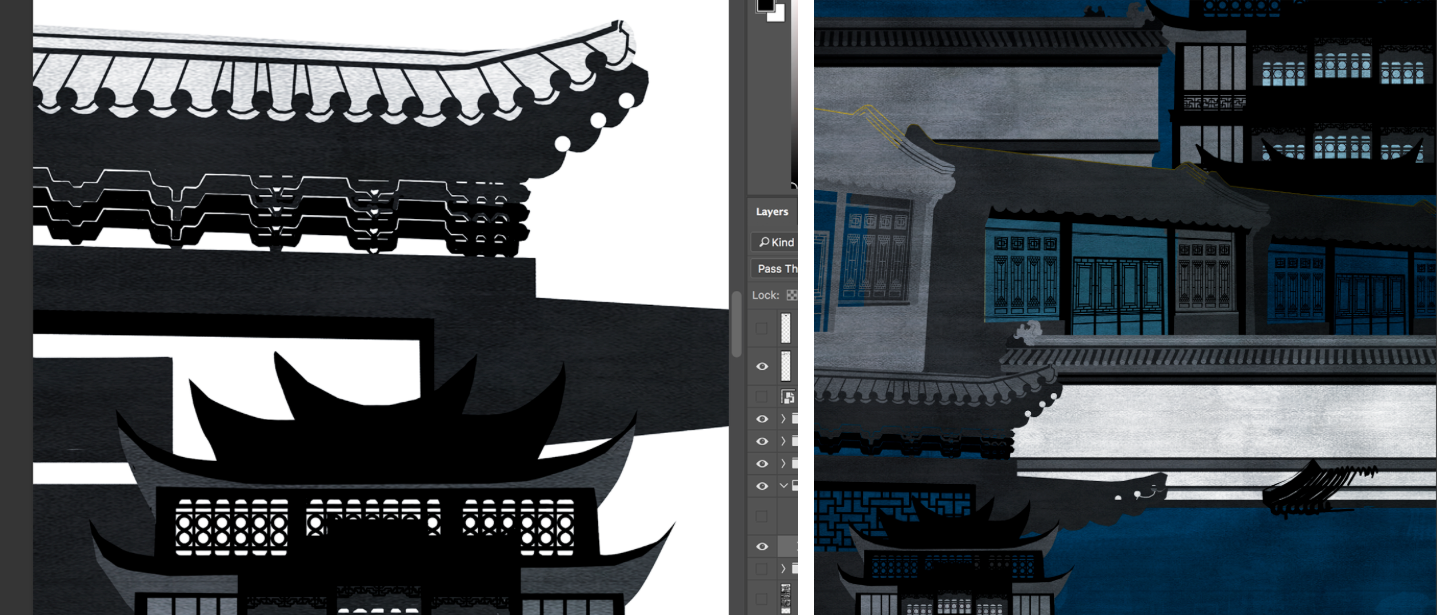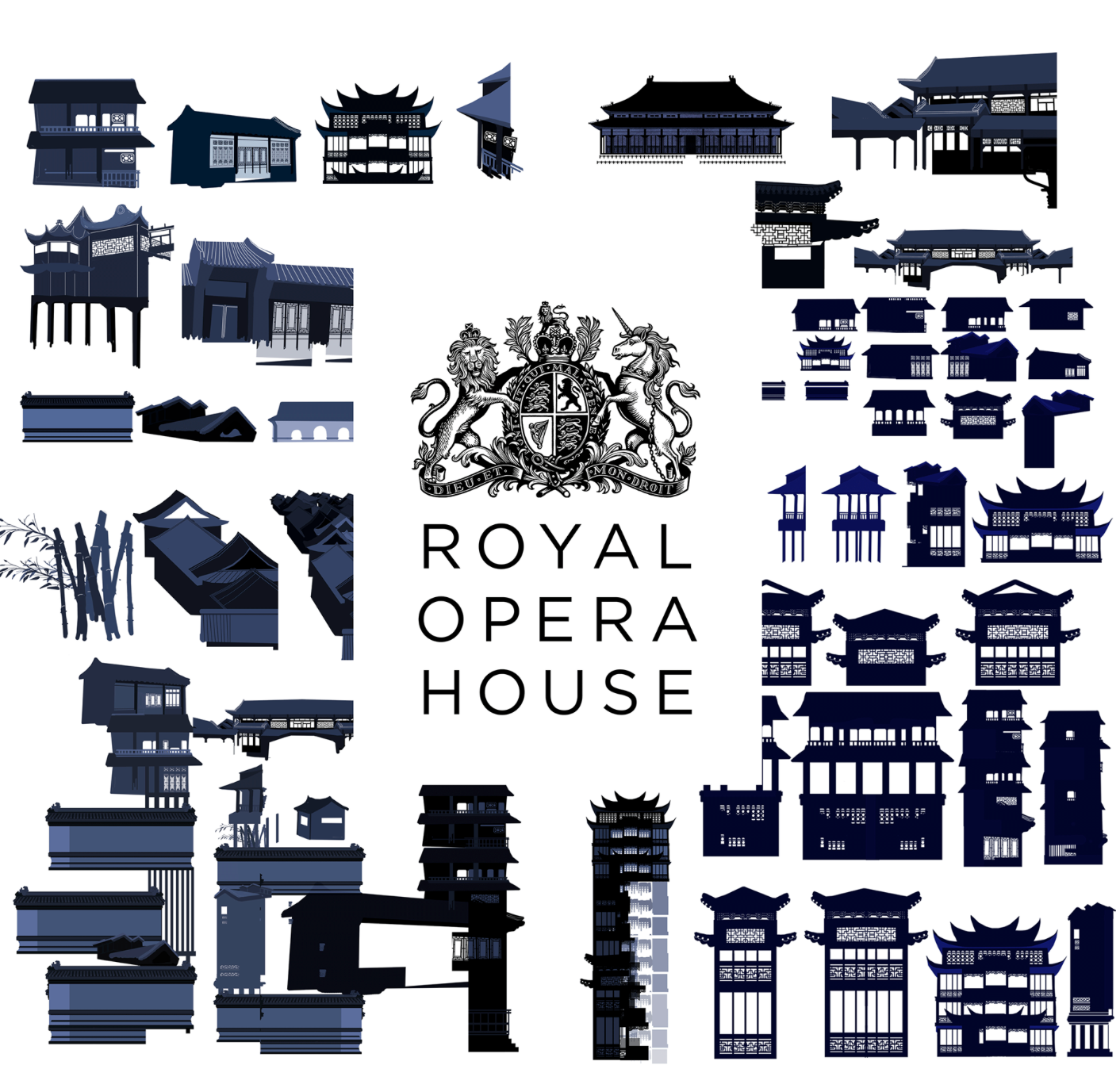 For ribbon animation, to add more fluent and realistic movement, we manipulated Photoshop brush and animated in After Effect.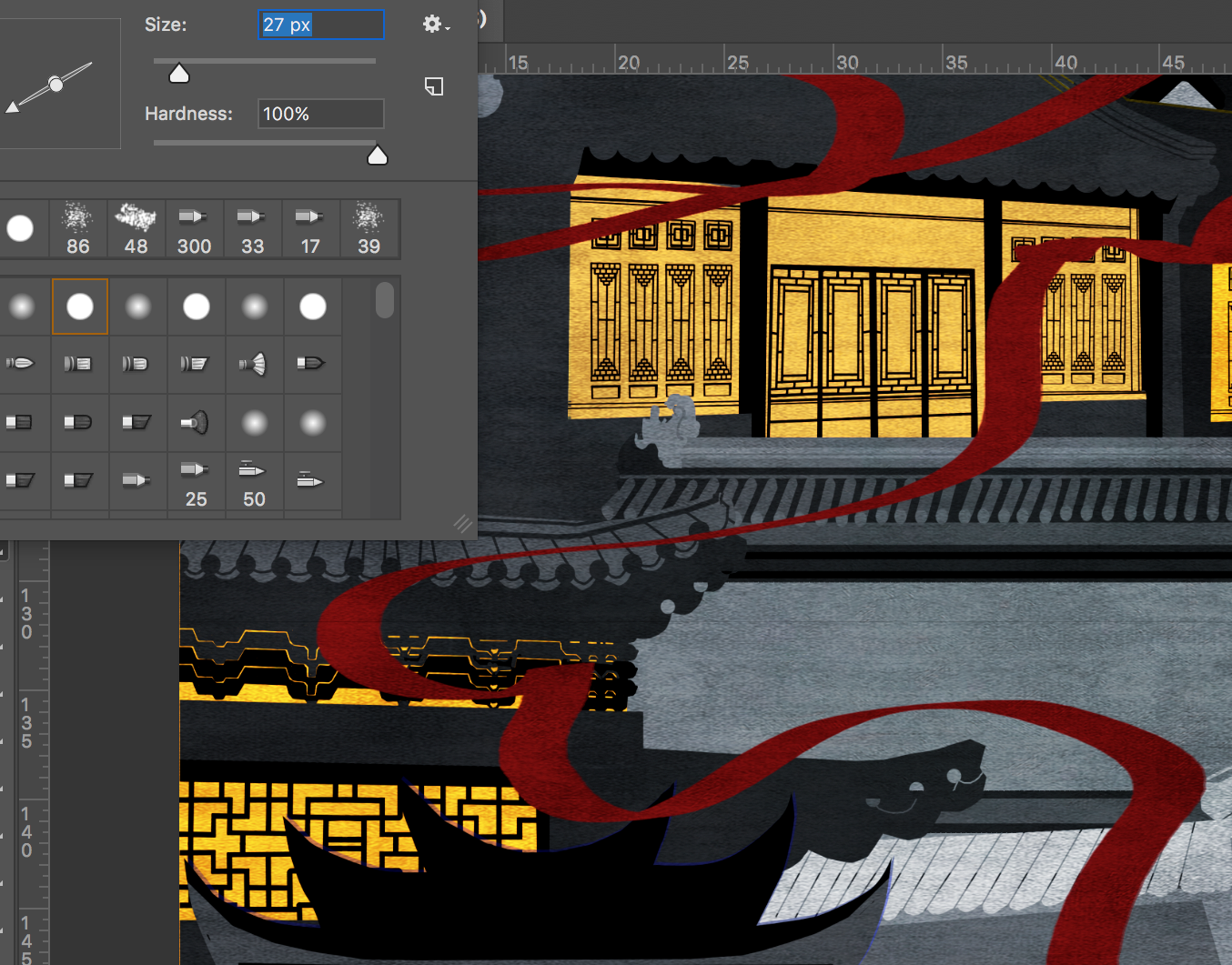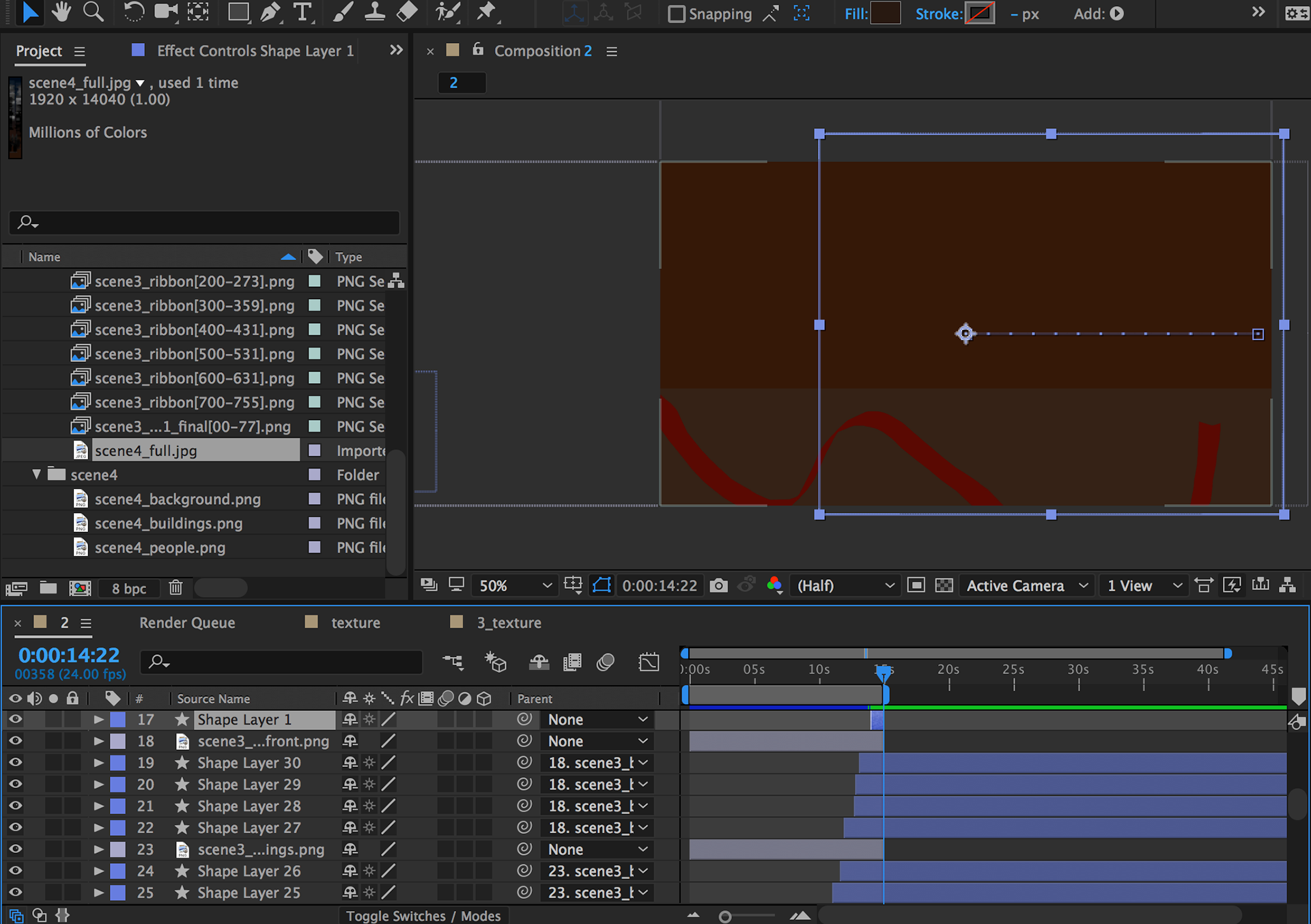 We used Premier Pro to combine the finished film and the sounds. 
The sound we used are light bell, glass breaking, and hammer sounds with the aria, "Nessun Dorma".